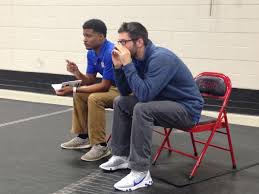 Coach
Coaching Requirements and Expectations

OYWA League Rule #2:
C. All coaches must have background check every two (2) years. Coaches pass will be issued to be used for all practices and dual meets. USA wrestling coach pass will be honored. - Last Day to Process Background Checks - 1/3/24.
D. All teams must have at least one person with a certified CPR card.
E. All coaches must either (1) hold a pupil-activity program permit OR (2) successfully complete, every three years, an online training program in recognizing the symptoms of concussions and head injuries.
F. All coaches and parents must complete the requirements of the Ohio law titled the Lindsay law.
COACHES NEED TO READ THE FOLLOWING DOCUMENTS PRIOR TO REQUESTING THE BACKGROUND CHECK REQUIREMENT.
#1 - OWYA Coaches Details/Manual
SCHOOL (High/Middle) COACH DOCUMENTS REQUIRED FOR OYWA BADGE
Coach that has a school background checks FORM
Coach/Parent Helpful Links
Certified CPR card
>Online Option 1
>Online Option 2
>RedCross
Online training program for concussions and head injuries